Hey book nerds! Today I am doing the prompt provided by Sam @ Fictionally Sam, The Grinch Who Stole Books! The idea is that we list books we wish we could steal, like pretty books, rare editions, collectors' editions, or even a story idea from an author! I am SO excited about this prompt cuz I know it'll be so fun, and I have a bunch of collectors' editions in mind that have been on my wish list for a while, so let's go! 😄
I love this Barnes & Noble collectors edition of Narnia! It has all seven books in it and it's sooooo beautiful! 😍
If I ever got a copy of this, I would want this gorgeous shiny gold collector's edition! Maybe then I'd finally get around to reading it? 😂
I have wanted these shiny foil editions of the Hunger Games for years! They are just SO pretty I NEED them! Every time I see them I just go: 😍😍😍😍😍😍😍😍😍😍😍😍😍!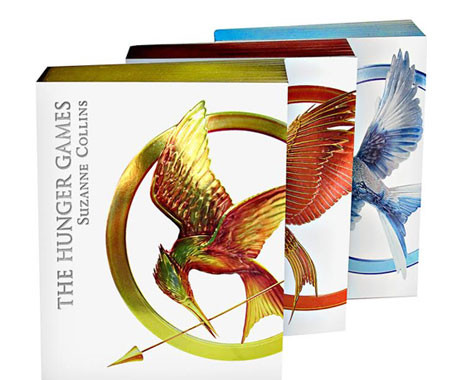 And look at THESE! THESE ARE MY FAVORITES! I want them SO bad, but apparently you can only get them in Australia, and they're like really hard to find? 😭
This is a really cool interactive version that my friend has a copy of! It has maps that fold out and things like that, kind of like a pop up book, but it's still mostly a novel.
Now this one actually is a pop up book! I've always liked Alice in Wonderland, and the artwork in this is SO gorgeous! It would make a great collector's edition to my shelf!
This is a book another friend had that she let me read on our little road trip earlier this summer. It's this amazing photography book that captures young girls just being themselves! It's such an uplifting and positive book that reminds us that beauty isn't only skin deep, and I REALLY want my own copy some day, but it's so expensive! 😩
So there are all the books I wish I could steal for myself for Christmas! What about you? What are some collector's editions you are dying to have? Aren't those Hunger Games copies amazing?! 😍
Stay tuned tomorrow for BW #10! 🎄
Follow
All credit goes to the authors of the images.
<a href="https://www.freepik.com/free-vector/blue-christmas-card-in-watercolor-style_816724.htm">Designed by Freepik</a>
<a href="http://www.freepik.com/free-vector/soft-background-with-a-cute-blue-watercolor-stain_1064674.htm">Designed by Freepik</a>
https://www.canva.com/
<a href="https://www.freepik.com/free-vector/cute-hand-drawn-christmas-pattern-with-different-elements_3534754.htm">Designed by Myriammira</a>
https://bookdragons247.wordpress.com/2018/11/18/bookend-events-bookending-winter-2018/
https://fictionallysam.wordpress.com/2018/11/18/bookending-winter-2018-announcement/
Sam's Blog:
https://fictionallysam.wordpress.com/
Book Covers:
https://www.barnesandnoble.com/
https://www.google.com/search?q=hunger+games+luxury+edition&source=lnms&tbm=isch&sa=X&ved=0ahUKEwiX-8TBgLDfAhUNHDQIHV1DDtsQ_AUIDygC&biw=1440&bih=716#imgrc=8Juk9CSOL3lemM: https://www.goodreads.com/review/list/44190603-heather?shelf=read