Hi guys!!! I'm back from my mini sporadic hiatus with my review of The Second Star Society's November book of the month, The Shadow Queen! I think this has been my favorite retelling that I've read all year, and I'm so excited to talk about it, so let's go! 😄🍎
The plot was so interesting! I love the twists of the prince being able to shape shift into a dragon and having that part of him be used by the evil queen to turn him into the huntsman and go after Lorelei. I actually loved the romance in this too! It was very slow burn and didn't really get going until halfway through which I liked because the whole first half was spent setting up their backgrounds apart from each other and focusing more on the plot. And when the romance finally did come into play it never took away from the plot, but added to it, which I really appreciated.
I also LOOOOOOOVED how much this reminded me of OUAT, which is like my favorite TV show ever! I totally saw similarities to Regina and Snow from that version in Irina and Lorelei, and also a little bit with the plot of how Lorelei stole goods from the rich to take care of her people, and Regina ripping out people's hearts.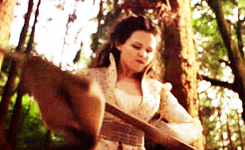 The world building in this was so cool!
I liked how there was a little bit of Russian culture in it,

and I really liked how the magic system was set up. It was so interesting how the magic user has to take control the "heart" of the person or object they want to manipulate. And the contrast of how Irina, the evil queen, abused her power by forcing the will of the hearts to bend to hers, and how it ended up weakening her and damaging the land of the kingdom in the process. And in comparison, Lorelei asked permission and stated her honorable intentions to who or whatever she wanted to use her magic in, and worked with their hearts instead of forcing them to do what they didn't want to do. It was all so well thought out and unique and it was so fun to read about.
I actually don't think there was a character in this I didn't like! Seriously, I even enjoyed reading in the evil queen's POV! She was just so fascinating, and I actually felt kind of bad for her, though I'm not sure why, and usually I'm not a villains person and I wouldn't like that, but I think it was because she reminded me so much of Regina when she was evil that it made me like her.
I loved Lorelei's strength, selflessness, and kindness while still being totally kick-butt, which is what every Snow White should be!
And Kol with his love for his family and ability to go from the disappointment of the family to stepping up as king when his country needed it most, and his strength to fight off Irina and keep his humanity intact and his love for Lorelei.
And Kol's loyal friends that will follow him into any battle and entertain us with sassy comments.
Gabril, Lorelei and her brother's protector and father figure who never gave up his faith in her and raised her and trained her to be the best queen she could be.
Leo, Lorelei's brother who was always there to break the tension with a joke or suggest elaborate plans with lots of flair.
And especially Lorelei's pet gyrfalcon, Sasha, which Lorelei saved from the brink of death as a baby with her magic that gave her the ability to communicate telepathically with her, which made for some hilarious arguments about not being able to understand why humans don't appreciate the dead mouse she so thoughtfully caught to share for their dinner. 😂
The only negatives I have are that yes, the ending could probably been drawn out just a tiny bit longer, and there were a few loose ends that could've been explained better, but I don't want to go into detail because of spoilers, and honestly they just didn't take away from my enjoyment of it really at all. I just guess this was my kind of book, which was so refreshing since I've basically been in a slump since June, and I'm so glad I loved it and the magic and the writing and the characters and the OUAT nostalgia (ugh it feels too soon to say that since it hasn't even been off air for a year! 😭) that it gave me!
I loved this book SO much! I really don't think there was anything significant that I didn't like about it, so I can safely say that it deserves the 5 stars I gave it and it's probably going to be my favorite retelling I've read this year. And definitely one of my favorite books ever! If you are a fan of OUAT or the movie Snow White and the Huntsman, definitely check this book out! I don't think you'll regret it! 😄

Hey guys! I hope you enjoyed this review! There will be some changes to the book club in the coming new year, and I will be getting ready to announce it on the Goodreads page and on my book club page soon, so be on the lookout for that!
I will be back in full swing with my November wrap up on Saturday, and then with a Bookending Winter post, (which is basically the Blogmas version of Blogoween that I did in October, they just changed the name) every Tuesday, Thursday, and Saturday up until Christmas Eve and Christmas Day! 😄 See you next time! Bye! ♡
Follow
All credit goes to the authors of the images.
<a href="https://www.freepik.com/free-vector/blue-christmas-card-in-watercolor-style_816724.htm">Designed by Freepik</a>
<a href="http://www.freepik.com/free-vector/soft-background-with-a-cute-blue-watercolor-stain_1064674.htm">Designed by Freepik</a>
https://www.goodreads.com/book/show/12558285-splintered
https://www.goodreads.com/
Snowflake Rating:
<a href="http://www.freepik.com/free-vector/coloured-snowflakes-collection_998491.htm">Designed by Freepik</a>
Gifs:
https://giphy.com/gifs/girls-once-upon-a-time-ouat-j42YA0oXrdTtS
https://giphy.com/gifs/once-upon-a-time-ouat-R2XP70OwNnxvy