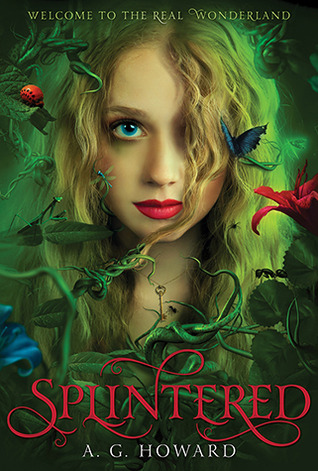 Hey guys! Here is my review for Splintered! I'm sorry this is going up a little late, I'm writing it at 11 at night. 😂 I just have been really stressed and unmotivated lately and it took me forever to finish this book. A couple of days ago we suddenly got a bunch of snow dumped on us and for some reason my mental health kind of plummeted with it. Oh well, here's my thoughts on my first Alice in Wonderland Retelling! 😉
The settings and the writing were probably the best things about this book! The author does a great job at really bringing Wonderland to life, and that was my favorite thing about this. All of the scenes were really cool and whimsical and they reminded me a little bit of the Disney movies, both the old animated one and the new ones, which made me a little nostalgic, which was great.
The plot was intriguing, but a little bit confusing at times, which was okay for me because it made me want to read more to figure out what the motives of the characters were and figure out what was going to happen next.
The characters were...interesting. I liked Alyssa well enough, she was interesting and I liked her strength that she developed as the book went on, and the supporting characters were okay...but I have some mixed feelings about Jeb and Morpheus. There was definitely a love triangle. A BIG ONE.

Cue long sigh and eye roll.
They were definitely intriguing characters, but they had some flaws that just made me cringe. I didn't like how possessive Jeb seemed in the beginning, and I hated how rough and violent he was towards her. And Morpheus...oh don't get me started. He was just so creepy and manipulative and I HATE guys like that. I'm just not one for the whole swooney immortal bad boy love interest. It's just so Twilight-ish and grosses me out. The whole love triangle just felt really icky to me. I really don't know how else to describe it.
Really I just have one big huge negative and it was the romance...just pretty much everything about it. I was very wary of both Morpheus and Jeb, and though I felt myself wanting to sympathize with them towards the end, I didn't want to because it just didn't sit right with me and I hate these kinds of romances.
The settings were great, and the plot was interesting, but I think the romance just killed it for me. It just wasn't the kind of thing that I like to read and just made me cringe on the inside. I am really satisfied with the end though. There was only really one loose end that sets up for the next book, but I think I am just content with reading it as a standalone because I know that the rest of the series is going to dive more into the romance and I just really don't really feel like following along with it. But I would recommend this book to anyone who loves paranormal love triangles, dark retellings, and Alice in Wonderland, especially the Tim Burton movies. 😊
So what did you think of this book? Do you like these kinds of romances, or do you agree with me? What Alice retellings do you love that you would recommend? Stay tuned later today for my very last (*sniff* 😢) Blogoween post! Bye! ♡
Follow
All credit goes to the authors of the images.
<a href="https://www.freepik.com/free-vector/blue-christmas-card-in-watercolor-style_816724.htm">Designed by Freepik</a>
<a href="http://www.freepik.com/free-vector/soft-background-with-a-cute-blue-watercolor-stain_1064674.htm">Designed by Freepik</a>
https://www.goodreads.com/book/show/12558285-splintered
https://www.goodreads.com/
<a href="http://www.freepik.com/free-vector/coloured-snowflakes-collection_998491.htm">Designed by Freepik</a>