Helloooo fellow book nerds! (Or for this post specifically, movie nerds!) Today with Anna @ The Bursting Bookshelf (I love her blog's name!) we are talking about our top five favorite Halloween movies that aren't scary! And since I am definitely not into horror, for me that means....you guessed it...Disney of course! 😄
1. Twitches
2. Twitches Too
This definitely takes the first spots on my list. I LOVED these movies when I was little! They were so fun and I watched them a million times. To this day I'd totally watch them every Halloween if I could. I just really wish Netflix had them!
3. The Halloweentown Movies
So I looked these up and I thought there was only three, but apparently there is four of them. I didn't include Halloweentown High because I'm actually not sure if I've ever seen it or not. For some reason I only remember the other three.
But anyway, I watched these less often than Twitches, but I still did really like them. Even the last one, even though it was annoying that they changed the actors. I wasn't too picky with my movies when I was 9. 😂
4. Mostly Ghostly
I have no idea why I liked this movie so much, and only now years later I realize that it's based on books by R.L. Stine, which I never read because yeah, definitely pretty much horror. And this movie is actually pretty creepy too. I'd still probably be creeped out by it if I watched it now. But Idk, I just think I loved the idea of the kid having ghost friends that were his age. 😂 I guess my little lonely only child heart wished that I had them too because I didn't really have any friends either. Plus this was when Madison Pettis was still so little and cute! She was one of my favorite actresses when I was little.
Okay I was going to stick to old Disney Channel movies that I grew up watching, but I really wanted to pick ones that I remembered more and that I liked enough to see multiple times, and really I've never been that into Halloween and/or I wasn't allowed to watch a ton of the movies, so there was only a few that I could actually go with.
5. Coco
But
since I had a hard time coming up with one last one from my childhood, I decided to go with this one. I guess technically I can count it as a Halloween movie, and even though I've only seen it once, it is definitely one of my favorites! It's so touching and amazing, and if you haven't seen it yet, you totally should this year! ...Aaand now writing this I have Un Poco Loco stuck in my head. 😂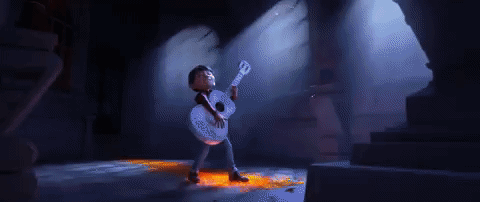 `
Hey guys! This was a fun little post to write as I got to time travel back to my childhood when Disney Channel was still good. 😂 Ah, memories.
What did you think of this post? How are liking Blogoween so far? Only two more weeks until I get to start planning Blogmas! Are you excited? 😱 Don't forget to check out Anna's original post! Bye! 🎃
Follow
All credit goes to the authors of the images.
<a href="https://www.freepik.com/free-vector/blue-christmas-card-in-watercolor-style_816724.htm">Designed by Freepik</a>
Credits:
https://www.canva.com/
<a href="https://www.freepik.com/free-vector/lovely-autumn-background-with-flat-design_2649014.htm">Designed by Freepik</a>
Credits:
<a href="http://www.freepik.com/free-vector/soft-background-with-a-cute-blue-watercolor-stain_1064674.htm">Designed by Freepik</a>
Anna's Blog:
https://theburstingbookshelf.wordpress.com/2018/08/31/simon-vs-the-homo-sapiens-agenda-by-becky-albertalli/
Divider:
https://www.canva.com/
<a href="https://www.freepik.com/free-vector/nice-watercolor-halloween-collection_1315082.htm">Designed by Freepik</a>
Gif:
https://giphy.com/gifs/am85-mexico-3ohfFLjRUZWVXGg3VC
Movie posters:
Twitches:
https://www.google.com/search?q=twitches+poster&source=lnms&tbm=isch&sa=X&ved=0ahUKEwiO7eeN1ZDeAhVRJTQIHQRRAdUQ_AUIDigB&biw=1440&bih=716#imgrc=EOo3VxxLr_aVAM:
Twitches Too:
https://www.google.com/search?q=twitches+poster&source=lnms&tbm=isch&sa=X&ved=0ahUKEwiO7eeN1ZDeAhVRJTQIHQRRAdUQ_AUIDigB&biw=1440&bih=716#imgrc=e5HbZT1Q6Ct0jM:
Halloweentown movies:
https://www.google.com/search?biw=1440&bih=716&tbm=isch&sa=1&ei=1NfIW97zPIT09APTsZLQBw&q=halloweentown+posters&oq=halloweentown+posters&gs_l=img.3..0.73543.79707..79913...0.0..0.354.3391.0j18j2j1......1....1..gws-wiz-img.....0..0i67j0i10i67j0i8i30j0i24.EWL97cdmuo8#imgdii=ZE2rIy7r0JYwEM:&imgrc=JuJ_s3fUIggNjM:
Mostly Ghostly:
https://www.google.com/search?biw=1440&bih=716&tbm=isch&sa=1&ei=9NrIW-efAqaT0PEPx7KeiAg&q=is+mostly+ghostly+a+disney+movie&oq=is+mostly+ghostly+a+disney+movie&gs_l=img.3...117304.124726..124911...0.0..2.665.6449.0j26j2j0j2j2......1....1..gws-wiz-img.....0..0j0i67j0i8i30j0i24.UTld06Yt9GE#imgrc=PnUSh_8JkAhC8M:
Coco:
https://www.google.com/search?q=coco+poster&tbm=isch&tbo=u&source=univ&sa=X&ved=2ahUKEwiYmuPS3JDeAhWtIDQIHXr3D6MQsAR6BAgFEAE&biw=1440&bih=716#imgrc=AX4YLGKCB8t9GM: