Hey guys! Today for Blogoween #10, (OMG after this post I have only 3 left?! 😱 Where is this month going?! But actually I'm kind of excited for it to be over cuz then I can start working on Nanowrimo and planning for Blogmas! 😍) I am using the prompt provided by Sam @ Fictionally Sam, The Sacrifice, where we list characters we think would die first in a horror movie! I laughed when I saw I this post and knew instantly that I wanted to do it cuz boy...do I have a couple characters in mind...this is going to be fun. 😏
1. Jenna from The Princess Plot
I read this duology back when I 16, and I liked the story itself well enough, but Jenna...ugh. She just really had zero common sense! I mean I know she was like 13, but she was so oblivious to everything and so naive that it was just so annoying! It made it really hard to like her because she made such stupid decisions and didn't stop to think rationally about things. And it might've been because I was maybe to old to read this by then, but I just really like to like my protagonists, you know?
2. Ren from The Sound
Ugh. I hate this book so much. I went into it thinking that it was going to be an intriguing murder mystery, but no. The murder aspect was barely in it at all, and instead it was the most unrealistic trashy romance drama I have ever read. And when Red finally came face to face with the killer, (which she fell right into a trap with because she IGNORED all the signs and was too busy lusting after her boyfriend...and I mean lusting, *pukes* the only reason she didn't die was because her boyfriend just happened to show up and save her. 😡 UGH literally everything about this book was so stupid and frustrating!
3.Vee from Nerve
Ugh this was another one where the character annoyed me so much. She got herself into this whole mess by choosing to keep doing all of the dares just pretty much out of greed. I didn't agree with her reasoning and I just really think she would be the first to die in a horror movie because she would keep making stupid decisions. 😂
4. August from A Thousand Perfect Notes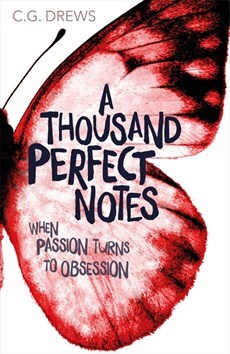 Don't get me wrong, I LOVE this book, and I love August! But let's just be honest here, she'd be the first to die in a horror movie because she'd try to make friends with the serial killer and they'd think she was too annoyingly bubbly so they'd shoot her to shut her up. 😂
5. Gwen from Ruby Red
And Gwen. Oh Gwen. I feel like she didn't do anything. She just kinda let everything happen to her and went along with all of the weirdness and pointlessness of this book. If only her and her book lived up to its potential. 😕 If she was in a horror movie, she'd probably blindly follow the killer into a trap.
So those are my choices! What annoying or lovably oblivious characters do YOU think would die first in a horror movie? Don't forget to check out Sam's original post! See you next time! 🎃
Follow
All credit goes to the authors of the images.
<a href="https://www.freepik.com/free-vector/blue-christmas-card-in-watercolor-style_816724.htm">Designed by Freepik</a>
Credits:
https://www.canva.com/
<a href="https://www.freepik.com/free-vector/autumn-backgound-with-leaves_2675745.htm">Designed by Freepik</a>
Credits:
<a href="http://www.freepik.com/free-vector/soft-background-with-a-cute-blue-watercolor-stain_1064674.htm">Designed by Freepik</a>
Sam's Blog:
https://fictionallysam.wordpress.com/2018/10/22/blogoween-day-6-the-sacrifice/?blogsub=confirming#blog_subscription-3
Book Covers:
https://www.goodreads.com/