Hey Book Bloggians! Welcome to my very first Blogoween post! 😄 This month Blogoween is organized by Sam @ Fictionally Sam and Clo @ Book Dragons, and hosted by a bunch of bloggers from around the internet. If you want to know more and see the full hosts' prompt schedule for Blogoween, check out their blogs!
How Blogoween works in a nutshell is basically we write posts themed around Fall and/or Halloween, and find some way to also make it bookish related! There are three levels; level one is where you pick any 13 days throughout the month of October to post your Blogoween posts, level two you have to post from October 24th to October 31st consecutively, and level three you post every single day from the 1st to the 31st!
I will be doing level one, so throughout this month I will be posting 13 bookish Fall and Halloween themed posts, in addition to a few of my regular posts, such as monthly wrap ups/goals and my monthly book club book review. 😊 Wow, that's a lot more posts than I usually do in a month! Are you guys ready? Let's go!
As I mentioned above, you have the option to use prompts from the hosts, or you can use your own original ideas, or do a mix of both! For my first post, I decided to use an original idea I had; taking five of my favorite warm and cozy drinks that I love to drink in the fall time and pair them with some of my favorite books! (I'm pretty sure no one has done anything exactly like this before, but if this is your original idea, than I give you the credit! 😉)
This was harder than I thought, since I had to come up with characteristics for each drink, and then make them fit with books...somehow. Oh well, I think I figured it out, so hopefully it makes sense. 😂
1. Raspberry hot chocolate; sweet, comforting and nostalgic.
One of my favorite drinks is hot chocolate with raspberry syrup. It's amazing, and it's great as a mocha, too! The characteristics that made me think of it was sweet, because of the chocolate and sugary syrup, and the comfort and nostalgia of classic hot chocolate.
So, I put it all together and realized it also describes my favorite contemporary middle grade series, The Mother Daughter Book Club! There are some very sweet family and friendship moments in this series and I don't think I'll ever grow out of reading them. I think I was in 8th grade when I started reading this series, and I immediately fell in love! I really felt like I grew up with the characters and that they were really my friends, so it's definitely comforting and nostalgic like hot chocolate! Plus the cover is pink, which reminds me of the raspberries. 😂
2. Caramel mocha; dark and rich with a sweet side.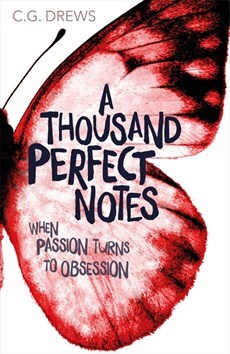 Caramel mochas are sooo good. I think they might be my favorite kind. Who knew that chocolate, caramel and coffee would go so well together? Well...I didn't. At least up until about a year ago. 😂
But caramel mochas are very dark and rich with chocolate and coffee, with a little bit of a salty sweet twist, just like a more serious YA contemporary, A Thousand Perfect Notes! ATPN has a darker and hard hitting plot, but also a very sweet and quirky friends-to-lovers romance and undeniably lovable characters that made it so warm and cozy but also rich and meaningful, just like a caramel mocha! 😋
3. Chai tea latte-sweet, spicy, and reminds me of fall.
This one was probably the hardest to come up with. It was way harder than I thought it was going to be to find a sweet and spicy book, so I just decided to go with the main characters for this one.
David from the Reckoners trilogy is a very sweet and loveable dork who tries his best to be a leader and a kick butt hero, but underneath all that he's really kind of a clumsy nerd. And Megan is totally opposite from him. She is so spicy and kick butt and enjoys making sarcastic comments and being maybe a little too trigger happy. I ship them so much. 😂
And for the fall theme I chose the cover of the second book, because the red reminds me of fall leaves and honestly it was the only thing that I could think of. 😳
3. English breakfast tea with sweet cream-classic and bittersweet.
I had trouble finding a book for this one, but I thought a classic or a historical fiction would be most appropriate, so why not a little of both? I could definitely see All the Light We Cannot See becoming a classic someday, if it isn't already. And the bitter classiness of English Breakfast Tea and sweetness of sweet cream or vanilla coffee creamer is one of my favorite combinations, and reminds me of this book.
For one, English Breakfast Tea is a pretty European drink, and this is set in Europe, but mostly it's because there is definitely a dark and bitter vibe to ATLWCS like all WWll books. But, there are also some sweet moments and great storytelling that reminds us of the little things that make up life, and a somewhat happy ending that fills us with hope that life will go on even after that much tragedy.
5. White mocha with toasted marshmallow syrup-creative, adventurous and reminds me of little of winter and colder weather.
I've always loved the creative world building of Snow Like Ashes. With the kingdoms themed after seasons and the really cool magic system, it made it really fun and inspiring for me to read. My idea to mix toasted marshmallow flavoring with coffee was a little adventurous for me, since I don't think a lot of people do it, but I've liked it in hot chocolate before, so I thought why not? So like this creative drink, I thought Snow Like Ashes fit because of the adventure of a fantasy series and it's creativity and the theme of winter. It's the perfect drink and series to warm me up in the coming winter months.
So what did you think of my very first Blogoween post? Wasn't it fun? Do you like my cute little dividers I made? I just LOVE cartoon ghosts, they are one of the most adorable things ever! 😂 Stick around for my new and improved room tour tomorrow and Blogoween #2 this Thursday! Until next time, and thanks for reading! Bye! ♡
Follow
All credit goes to the authors of the images.
<a href="https://www.freepik.com/free-vector/blue-christmas-card-in-watercolor-style_816724.htm">Designed by Freepik</a>
<a href="http://www.freepik.com/free-vector/soft-background-with-a-cute-blue-watercolor-stain_1064674.htm">Designed by Freepik</a>
<a href="https://www.freepik.com/free-photo/exquisite-autumn-composition-with-coffee-and-leaves_2587223.htm">Designed by Freepik</a>
Clo's Blog:
https://bookdragons247.wordpress.com/2018/09/01/blogoween-signup/
Sam's Blog:
https://fictionallysam.wordpress.com/about/
Dividers:
https://www.canva.com/
bat:
<a href="https://www.freepik.com/free-vector/lovely-watercolor-halloween-character-collection_2848528.htm">Designed by Freepik</a>
pumpkin, spider, and ghost:
<a href="https://www.freepik.com/free-vector/nice-watercolor-halloween-collection_1315082.htm">Designed by Freepik</a>
Drink photos:
https://www.pinterest.com/
Book covers:
https://www.goodreads.com/
Gif:
https://giphy.com/gifs/excited-happy-friends-mzTKsByk8Xl6g