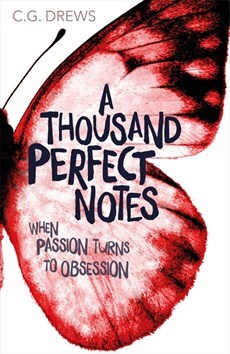 Hey Book Blogginas! I know I'm a little late in the game with this, but I'm SO SO SO excited to finally review the one and only Cait @ Paper Fury's debut! 😄 It was so awesome and I can't wait to fangirl about it, so let's get into it!
Trigger warning: Violence and Child Abuse.
First of all, I wanna talk about the characters. They were amazing! They were definitely my favorite things about this book! Their distinct personalities and awesome dialogue with witty sense of humor was totally recognizable as Cait's writing and I loved every minute of it! They were all so relatable and loveable and I would totally want to meet them in real life! Joey was absolutely hilarious and adorable, August was the friendliest and also the most intimidating extrovert ever, and Beck was this tragic little "burnt marshmallow" (August's words, not mine. 😂) and I related to him so much. Seriously, I am so him. And if I ever dated somebody like August, I would be terrified too. 😂
The author has said that her book is set in her hometown of Lismore, Australia, but it isn't really specifically mentioned. I got the feeling that she wrote it that way so the audience feels like this could be happening anywhere, which of course, it can.
And I loved the contrasted settings of the dark and gloom of Beck's violent house, and the chaotic but warm and loving atmosphere of August's house and the wealthy and luxurious settings of the contests and parties where Beck is forced to perform. It really shows the difference of Beck's everyday life and what he never really knew his life could be like.
Everyone has been telling me that this was a pretty dark book, and not a fluffy contemporary at all. And while that's true, I didn't think it was extremely dark as I was expecting. The abuse scenes weren't too disturbing for me to read, although they did make me sad. I have been abused by a parent when I was little, but only mentally, and it's been ten years or so, so I wasn't too triggered by those scenes as I worried I might've been, BUT I know there are people out there who are going through some things like that right now, so I would strongly caution them about this book, because they definitely could be very triggering to them.
With that said, I thought that the happy scenes with Joey and August did enough to buffer the dark scenes, and I totally fangirled over the relationship unfolding between August and Beck, which I definitely would describe as fluffy.
As for the plot itself, it was put together well and I loved the descriptive scenes that made me imagine it becoming a movie someday. 😊 The only problems I saw were that the pacing seemed to be a little fast and the scenes seemed to jump forward a little suddenly, but it wasn't too confusing.
The only negative I can think of is that I wanted a little more. It was under 300 pages, so it was short, and sometimes short books can leave it feeling a little lacking. I didn't really feel that way with the plot exactly, but I think because of the loveable characters and the heaviness of the abuse I feel like everything came to a head a little too quickly, and I just wish it was drawn out just a tiny but more.
And I know it's supposed to be a standalone, but I would love a sequel or at least an epilogue novella or something that shows us how all of the characters are doing a little later after all of the dust has settled. 😊 Also as I mentioned above, the scenes seem to jump from one to the next a little quickly, but it's still really good so that's why I gave it 4 1/2 stars.
Overall, this is one of my new favorite books, and definitely my new favorite characters. I actually totally ship Beck and August and I think they might be my new OTP! That doesn't happen to me too often. 😂
I loved the slow burn romance that started out as a friendship, and I loved that that wasn't the main thing that this book was about. I LOVE the relationship between Beck and his little sister, and you know, basically everything else. I think everyone should totally check this book and the author's amazing blog, Paper Fury, where she writes funny and relatable posts about being a writer and a book blogger. 😄
Hey guys! Have you read ATPN yet? Do you want to? Do you follow Cait's blog? What hyped book have you been the most excited to read lately?
I'll see you next time with another Top Ten Tuesday! Bye! ♡
Follow
All credit goes to the authors of the images.
<a href="https://www.freepik.com/free-vector/blue-christmas-card-in-watercolor-style_816724.htm">Designed by Freepik</a>
<a href="http://www.freepik.com/free-vector/soft-background-with-a-cute-blue-watercolor-stain_1064674.htm">Designed by Freepik</a>
https://www.goodreads.com/
C.G. Drew's Blog:
https://paperfury.com/
Book Info Blocks:
https://www.goodreads.com/
Snowflake Rating:
<a href="http://www.freepik.com/free-vector/coloured-snowflakes-collection_998491.htm">Designed by Freepik</a>