Hey fellow book nerds! I'm back with another tag. This time I thought I'd do the Summertime Madness Tag, since I'm "mad" that summer is over...haha...get it? 😂
Okay, bad jokes aside, I couldn't find the creator of this tag because I think they took down their YouTube channel. But Katytastic credits them in her video, so if you want to see it you should check it out! I love her channel! 😊
Now let's get started!
A Book With A Summery Cover.
I love this cover! I love the lighting of the photo and the water and everything. It's so pretty and summery on the outside! Too bad I hated everything on the inside.
A Fictional Destination You Would Want to Go on for Summer Vacation!
Oh this is going to be hard. I'm not sure I'd want to go to any fictional place cuz they usually have a very low chance of my survival. 😂 So if I had to choose a place out of a book, I think I'd want to visit Concord, Massachusetts from The Mother Daughter Book Club Series. Yes, I know it's not really fictional and I have used this series in tags way too many times, but I would totally want to go there if all of the characters were real! I would love to visit all of their houses and meet them and their families and sit in on a book club meeting and go to Megan's Grandmother's tea shop! I love this series so much and it would be so fun to visit their world for a summer.
A Novella that Will Last the Whole Flight to Your Vacation Destination.
Well, since I live in Alaska and Massachusetts is clear across the entire country, I think it would take quite a while to get there, so I'm sure I would need more than one novella. 😂 I think I would want to read all of the volumes of the Dorothy must Die short stories because I really would want to learn more about the stories and history behind Oz and the characters from this series, but I still need to read The End of Oz before I want to move on to the short stories.
You Have A Case of Summertime Sadness-So What Happy Book Do You Pick to Cheer Yourself Up?
I'm going to try my best to refrain from picking another Mother Daughter Book Club book. 😂 Sooooo I'll just go with...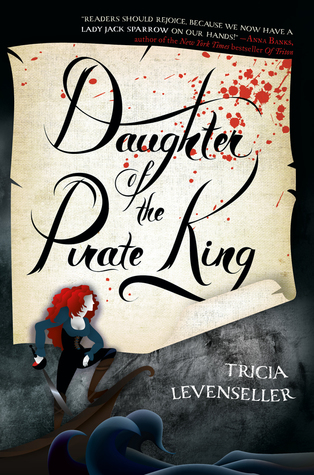 This one! This is a fun book to read during the summer because it's a pirate book set on the high seas and tropical islands with lots of adventure. The main character Alosa made me laugh out loud many times with her sass and witiness and I love her so much! 😂
You Are Sitting At the Beach All Alone, So Which Fictional Character Would Be Your Beach Babe?
Uhhhh, what's wrong sitting at the beach alone? Why can't I just stay single? 😂
To Match Your Ice Cream You Want an Icy Cool Sidekick! Which Fictional Sidekick Do You Pick?
Am I allowed to pick Elsa? No? Okay fine. I'll pick Meira from Snow Like Ashes cuz she's the next best thing. And she has ice powers so she's actually cool!
...Yes I know I took this way more literally than it needed to be...don't look at me like that. 😂 And yes I know she's not a sidekick but I'm picking her anyway.
Share the Summertime Happiness! Who Do You Tag?
Amy @ The Little Book Nerds in the Corner
And everyone else who wants to! 😊
So yeah, that was the Summertime Madness Tag! I hope you liked it! Are you sad that summer is winding down or are you excited for school and pumpkin spice flavored things? 😂 I don't even like pumpkin, but I like the spice! If you were a Fall themed drink, which one would you be? Do you like jumping in leaves? Am I talking about Fall a little prematurely? Are you going to do this tag and share it with your blogger friends? Are you getting annoyed with all of my random questions? Okay, I'll stop now, bye! ♡😂
All credit goes to the authors of the images.
<a href="https://www.freepik.com/free-vector/blue-christmas-card-in-watercolor-style_816724.htm">Designed by Freepik</a>
<a href="http://www.freepik.com/free-vector/soft-background-with-a-cute-blue-watercolor-stain_1064674.htm">Designed by Freepik</a>
https://www.canva.com/
<a href="https://www.freepik.com/free-vector/the-summer-holidays-background_777634.htm">Designed by Freepik</a>
Book Covers:
https://www.goodreads.com/
Katytastic's Channel:
https://www.youtube.com/watch?v=9qsFPEF-_R0
Amy's Blog:
https://thelittlebooknerds.wordpress.com/
Gifs:
https://giphy.com/