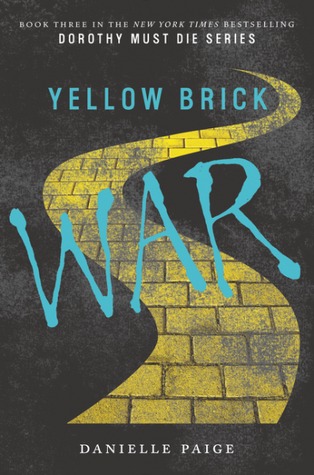 Hi guys! Today I am reviewing Yellow Brick War, the third book in the Dorothy Must Die Series for my book club!
*Warning! Mild spoilers for the series. It couldn't be avoided. 😂
The plot okay. There were actually a few parts where it made it hard to put down because I was curious to see what would happen next, which surprised me, because the later installments of this series haven't been as good as the first one. I still like the first one the best, but I did enjoy this one a little bit more than the second book, The Wicked Will Rise.
The setting is one of my favorite things about this series. I really like all of the whimsical brutality of it. (There's two words you don't see in the same sentence very often. 😂) I still find it really interesting and fun to read about and imagine in my head, even though the writing of the series after the first book has been lacking a little. I've never read any other books set in Oz other than this series yet, and I've really enjoyed exploring it through these books. They kind of remind me of the Oz from the movie, Oz the Great and Powerful. 😊
My favorite characters are Ozma and Pete. Don't ask me why. 😂 I know they don't do much, but I just think they are so mysterious and interesting. I was excited to read and see if Ozma would ever regain her clarity, and more about Pete's character and his reasoning for doing what he does.
I like Amy enough, but I was a little frustrated with her in this one. I was glad to see that she gained some humanity that I was afraid she was losing in the previous book, but I had some issues with how she seemed to not have much common sense in this book. It seemed like in this book one than in the others there were some situations where I thought she should be smart enough to figure some situations out for herself, rather than relying on anyone else. I thought that there were situations in Dorothy Must Die where she had to deal with situations tougher than this, and she handled them just fine, so it didn't make much sense.
Aside from my issues with Amy's lack of common sense, the biggest problem with this and the last book is that it feels like the author got kind of bored with her own series and the writing got kind of half-hearted and sloppy after the first book. There is still so much potential for the rest of the story, but it just seemed to fall flat. Also since this one and the finale are both under 300 pages, I feel like she could have combined them to make it longer. Or just fleshed them out more. The fact that it was so short actually made the plot seem even more rushed.
Overall I did enjoy it...mostly. The settings and my curiosity of how the story will end keeps me interested enough to want to finish the series. And I've come this far, so why not? 😂
Wow, this was a hard review to write! 😂 Since it's not the first book, I was trying to give my opinion without spoiling everything, and also I'm kind of not feeling well, I'm tired, and I have a bad case of the procrastinating...procrastinators...procrasties??? 😂 You know what I mean!
Anyway, have you read this series? Do you agree with my thoughts? Have you read any other Wizard of Oz retellings?
Thanks for reading, and I'll be back on Saturday with my July Wrap Up and August Goals!
Bye! ♡
Follow
All credit goes to the authors of the images.
Credits/What Do You Think?:
<a href="http://www.freepik.com/free-vector/soft-background-with-a-cute-blue-watercolor-stain_1064674.htm">Designed by Freepik</a>
Title
<a href="https://www.freepik.com/free-vector/blue-christmas-card-in-watercolor-style_816724.htm">Designed by Freepik</a>
Header:
https://www.canva.com/
https://www.freepik.com/
https://www.goodreads.com/