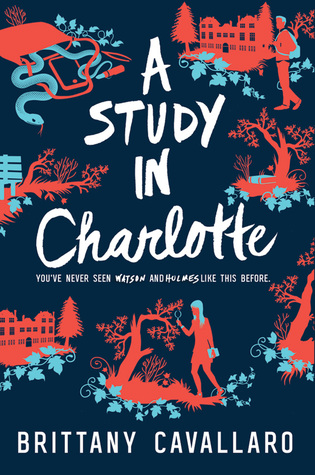 Hey guys! Sorry I haven't had time to post this week. I planned to do this review on Tuesday but I was so exhausted from the long crazy weekend and I was busy unpacking and trying to get things done around the house that I didn't get to it. So, I decided to just push it to today. But finally, here is my review for my book club's May book of the month, A Study in Charlotte by Brittany Cavallaro!
*Trigger Warning: Rape, language, and drug abuse.
The plot was okay, but I felt like it was lacking a little something and I just didn't feel really wowed by anything. It was kind of predictable, though it was a retelling, so I'm not going to criticize it too much, but I just wish I felt a little more invested in it I guess? Also I was a little confused understanding the motives of the antagonists, but other than those minor things, I really enjoyed it. It was so cool how the original Sherlock stories that were "written" by John Watson, Jamie's great great great grandfather,were set up in the crime scenes by the killer to taunt them. That was pretty creative.
I really liked the New England boarding school setting. The concept of the teenage descendants of Sherlock Holmes and John Watson ending up together at the same school and one of their classmates getting murdered there was really creative, and I liked that it played well into the plot.
I LOVED LOVED LOVED the main characters! They are really what made this book for me. The author did such a great job with their believable personalities. Charlotte is totally what I would think a teenage girl version of Sherlock would be like, and I love that Jamie wants to be a writer like his ancestor.
I think Charlotte was definitely my favorite. The writer did such a great job writing her character. I loved her little quips like:
I loved reading the scenes with her deductions because they just felt so real and natural like she was really Sherlock's great great granddaughter. I also really liked that it showed that Charlotte actually had somewhat good (though obviously complicated) friendships with her brother Milo, and her roommate, Lena. I really appreciate that the author included that even though she is a Holmes, she IS CAPABLE of having good relationships with people other than Jamie! That definitely could've gone a different way, and I'm glad it didn't.
Also I really loved the sarcasm and banter between her and Jamie, especially the scene where they go out for midnight pancakes and start arguing like a little elderly couple so much that their waiter literally tells them: "Happy fiftieth anniversary." 😂😂😂 That was literally like my favorite scene! I loved that the romance between them really felt natural and didn't feel too forced or insta-lovey like I was expecting them to be. They were friends and partners first, which was very fitting for a Holmes and a Watson.

I also loved that Jamie's dad actually kept a manual for Watsons on how to take care of Holmeses with all of their quirks like not eating or sleeping during a case, their deductions on personal lives, how to handle their drug addictions, and all of those things that you would and wouldn't expect from them. I just thought it was a great detail in the book to have something like that that their family line had passed down, since this retelling is about the original character's descendants, instead of rewriting the original characters themselves.
Other than the plot feeling a little bit meh, (I guess it just didn't have as much of an explosive ending as I was expecting) some little confusing parts, and a little too many f-bombs for my taste, (though if this weren't fiction I'm sure having zero language in it wouldn't be very realistic, so it was probably just the right amount and I'm being a baby, who knows? 😂) I really liked it. I probably wouldn't given it 5 stars if not for these, though the biggest problem I had was probably the plot being a little bit of a drag. Don't get me wrong, it wasn't boring at all! I was just expecting a little more of a bang or something at the end. 😕
Overall I think this was one of my favorite retellings. The characters and their dialogue was definitely what made this book so great for me, and I loved them so much.
I'd definitely recommend it to lovers of anything Sherlock Holmes, especially the BBC Sherlock.The whole feel of this book really reminded me of that version, but basically just for YA, and it made it really fun to read.😊 I'm really excited to read the rest of the series sometime!
What did you think of this post? Have you read any Sherlock retellings? What are some of your favorites? Thanks for reading and I'll see you on Tuesday!
Bye! ♡
All credit goes to the authors of the images.
Credits/What Do You Think?:
<a href="http://www.freepik.com/free-vector/soft-background-with-a-cute-blue-watercolor-stain_1064674.htm">Designed by Freepik</a>
Title Header:
<a href="http://www.freepik.com/free-vector/independence-day-banners-with-watercolor-shapes_1121363.htm">Designed by Freepik</a>
Book Covers:
https://www.goodreads.com/