Hey guys! I'm sorry this post is late, but this weekend I got hit with a cold and yesterday I barely got any sleep and just felt miserable, so thus, blogging didn't get done. 😔 BUT today I am BACK and I want to share with you a cool reading challenge I've been doing, so let's get to it! 😊
So last weekend I got to see the ceremonial start of The Iditarod, which is a famous sled dog race we have up here in Alaska, and I am so excited to show you guys some pictures I took!
Look at all the doggies! 😄
I was born and raised in Alaska and I've never actually been able to go see the Iditarod, so I was really excited to go this year, just for the experience.
If you don't know, The Iditarod is this crazy 1,000 mile long race where every March, mushers (the people driving the dog sleds) and a team of 16 dogs race to get to the finish line from Anchorage, to Nome, Alaska. The fastest someone has completed the race I believe is about 8 days and 3 hours. They race in blizzards, gale force winds, and subzero temperatures, all with just a sled and a their dogs. There are 21 (at least on the southern route this year) checkpoints for the racers to take a break if they want and to keep track of everyone and to keep them save, but other than that the race is pretty brutal.
Here is a map of the race that was painted on the side of a building near where we watched the ceremonial start. Every other year they go back and forth between racing on the northern route and the southern route, (which is the in dotted line.) The finish line in Nome is just past the Safety checkpoint in the far left hand corner at the top. I didn't realize it wasn't in the shot when I took the picture. 😳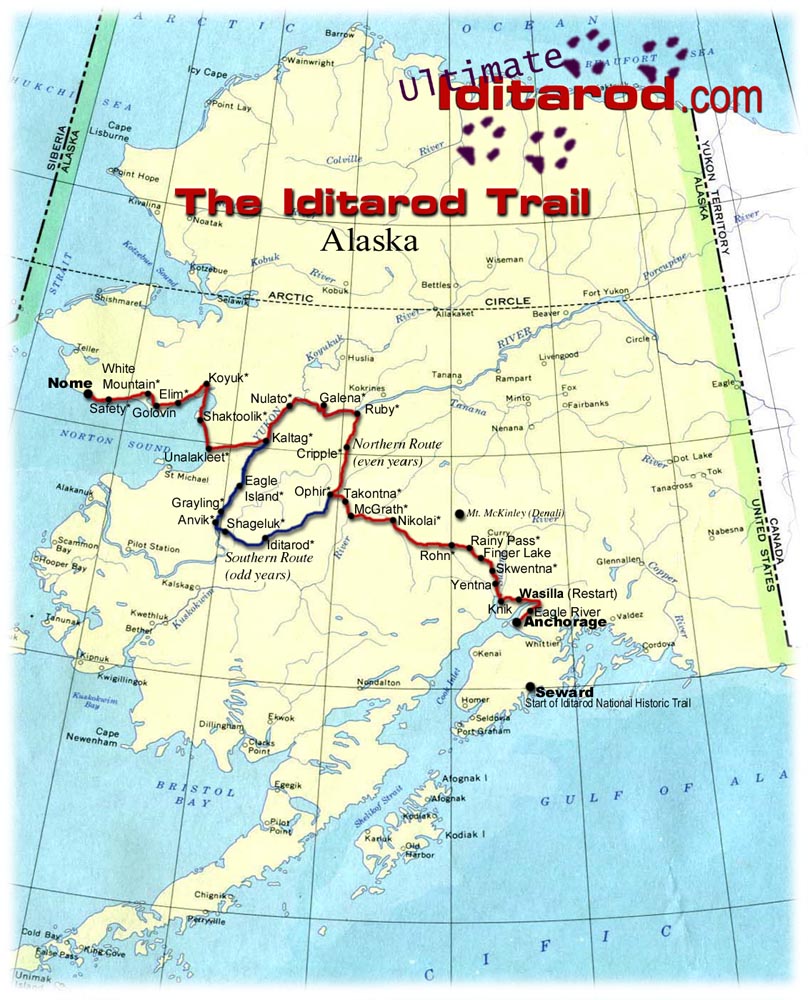 Here is a better map I found on Google so you can get a better idea of how long the trail really is.
It's basically all the way across the state! 😲
Anyway, I'm really excited about actually following the race this year, because my friend's mom told me about this reading challenge called Iditaread. I had never heard of it, probably because it was a thing their homeschool program did, and I was with a different one when I homeschooled throughout high school, but she said I could do it for fun even though I'm supposed to be in college, and I thought it would be fun to blog about so I decided to do it!
Basically how the challenge goes is you pick a musher in the race using the Iditarod website, and when you are finished looking though all of the profiles and you find one you like, you follow them throughout the race using the GPS tracker that each musher carries.
Your goal is to "beat" your musher to the finish line by reading 1,000 pages before your musher gets to Nome. There are about 1,000 miles (depending on the route they are taking, the northern or southern) in the whole race, and the pages you read corresponds with the miles. So for example, If my musher is at mile 430, I need to have read 430 pages or more to be on track. You want to stay ahead of your musher and read 1,000 pages to the finish line before your musher travels 1,000 miles and checks in at Nome.
So you see, there is some strategic planning involved. 😂 You should consider how fast you think you can read before you pick your musher. The race generally last about 9 to 15 days, so
if you can read fast or would like a challenge,

do your research and pick a musher who is known for being fast, or has won the race multiple times. If you don't think you can read 1,000 pages in 9(ish) days, then pick someone who tends to take their time and go a little slower, or a rookie. Although if you pick a rookie, there's always a slight chance that they might be this amazing miracle prodigy who goes really fast and breaks all the records and ends up winning on their first try! 😂 Haha, probably not, but I always love a good underdog story, don't you?
For my first time this year, I picked a rookie; a girl only a few years older than me who's been mostly at the back of the pack of mushers in this race so far. This is a picture of her. (She's in orange.)
My friend's mom printed out the charts to keep track of my musher and the books I read, but they wouldn't fit very well in my planner so I decided to copy them in and adjust it in my own way. On the left is: date I read the book, title of the book I read, number of pages I read in that book, total pages I've read so far, miles my musher has traveled, and miles remaining in the race.
On the right is the daily stats for my musher in the race that I found on the Iditarod website. From left to right: date arrived into checkpoint, name of checkpoint, time arrived to checkpoint, time left checkpoint, place in race as of upon arrival to checkpoint, number of dogs arrived with, number of dogs left with, (each musher starts out with 16 dogs, but sometimes some will get sick or something, and there is a vet at each checkpoint to check up on them. If the vet says a certain dog isn't fit to continue on, then they have to get left behind for the rest of the race. I believe each musher can be allowed to have down to 5 or 6 dogs before they are forced to forfeit.) rest time on this stop, and total rest time.
So that's basically the challenge in a nutshell. So here is a photo dump of some other pics I took that day! 😄
Here is another mural that shows a list of past winners, the year they won, and the time they finished with.
Here is a panorama I took of another mural of a musher and his dog sled.
And there was a festival going on at the same time with a snow sculpture competition! Here are some of my favorites:
Isn't so pretty? I like it a lot better than the other two books in the series. The color scheme works really well I think! 😊
Blurb:
Debutante ​ Alice Knight has a plan: have her first social Season in London, meet her husband, and marry him. As the Season begins, Alice's feelings and common sense both begin to undermine her goals. But she must stick to her plan—and everyone, including God, had best stay out of it.
The plan looks even less appealing when a childhood friend reappears, an American author shows her a different kind of faith, and a charming gentleman is not all he should be.
The life she longs for is finally at her fingertips, but how can she know it's the right one?
Author Bio:
Kellyn Roth has been writing stories since she was seven, though she wrote quite a few (awful) poems and songs before that. Nowadays, she pens Christian & Historical Fiction, including lots of adorable children and mischievous animals - as well as a generous dose of BBC-style drama.
Miss Roth lives in the beautiful Columbia River Gorge with her parents, two little brothers, crazy border collies, annoying but lovable cat, and assorted cows and chickens. She is a homeschooled highschooler who spends her non-writing, non-reading time blogging, riding horses, attempting clarinet and saxophone, and pretending she has other hobbies besides writing.
Oh and also! I signed up to be a part of her blog tour again! I did it last summer for her release of Ivy Introspective, and it was really fun! She sent me the link to sign up to share just in case any of YOU guys want to join too! 😃
Blog Tour Dates:
April 23rd-28th
Well that's it for now! Sorry for the looooong post! But if you made it to the end, I am so proud of you and so grateful! 😂 I hope you enjoyed this little look into my home state and this fun reading challenge, and I hope you sign up for Kellyn's blog tour! It'll be fun!
Until next time!
Bye! ♡
Why am I using so many exclamation points? Okay, I'll stop now!
Okay now. 😑
<a href="http://www.freepik.com/free-vector/winter-background-design_994864.htm">Designed by Freepik</a>
<a href="http://www.freepik.com/free-vector/soft-background-with-a-cute-blue-watercolor-stain_1064674.htm">Designed by Freepik</a>
Iditarod Website:
http://iditarod.com/
Iditarod Map:
https://www.google.com/search?q=map+of+the+iditarod+route&tbm=isch&tbo=u&source=univ&sa=X&ved=0ahUKEwjj0dn5uuXZAhUF3mMKHX-jCOkQsAQINw&biw=1440&bih=714#imgrc=dmSLxU6F02FhRM:
Kellyn's Blog:
https://kellynroth.wordpress.com/
Gif:
https://giphy.com/gifs/elsa-eZHDER1DwWeA0