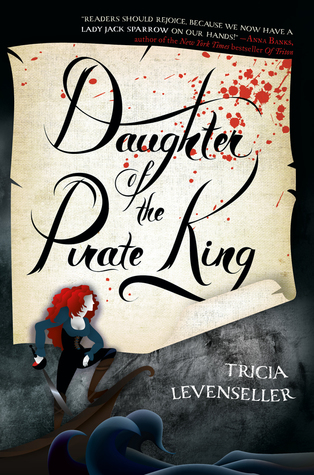 Hey fellow book nerds! I finally got to read this awesome book this Christmas, and it's sequel, Daughter of the Siren Queen, comes out on February 27th, and I'm really excited! This is one of my new favorite books, so I can't wait to rant about it!
😄
* Fair warning: This review will be filled with Pirates of the Caribbean Gifs. Obviously.
😂
I think the writing was one of the best parts about this book! There is so much snarky dialogue and banter between Alosa and Riden that it definitely made the book for me.
It was hilarious to see that side of their characters and I loved it so much that the only bad thing is I kept getting distracted from reading because I kept getting inspired to daydream about writing my own pirate series one day! 😂
I liked the plot, although it did feel a teensy but slow. I just was kind of expecting more action and actual "swashbuckling." It was still good, it's just the plot called for more strategic undercover spy type stuff, since Alosa is supposed to be searching their ship in secret.
I'm sure there will be room for a lot more action in the sequel, though. 😄
The pirate ship setting was really cool. There was even a map of Riden's ship in the end pages! 😄
Alosa was in the brig most of the time, except when she was searching the ship for the map, but there is a scene where they do go to an island and a scene where they go to a tavern, and since I've seen PoC so many times, the whole world was pretty easy to imagine. 😊 Although I think the plot, dialogue and characters played a much bigger role in it.
I LOVE LOVE LOVE Alosa! She's SOOOOOO AWESOME! She may be my favorite book character, like ever! She's SO sassy and hilarious and kick-butt!
I don't give too much away, but I just have to share some of my favorite quotes of hers to show you the best parts of her character:
I want to make a bookmark with this quote on it. 😂
I also love how many layers she has. She's proud of the fact that she has a crew she built up that consists of almost entirely all women, and she really is friends with all of them and cares about them. And even though she's a ruthless pirate, she doesn't want to hurt the innocent and she's also a total girly girl who loves fashion, accessories and cleanliness. 😂 Right in the beginning when she's "captured" she makes the enemy pirates bring all her clothes on board their ship and put them in her cell because she can't be without them. 😆
The only reasons I gave it four stars instead of five is because the romance annoyed me a little bit, but you know me and romance.
But I thought the sassy dialogue made up for it! And also I said I wished it had a little more action, and I just didn't like reading about all the sex parts, but I know it wouldn't be very realistic in a book about pirates without them, so I just ignored them. And also, I was a little bit underwhelmed with the way it ended. I expected it to end with a huge bang and a cliffhanger, but it just kind of calmly fizzled out. But I think it left a lot of room for the sequel to have a lot of potential! So that was good!
Overall I really really liked it. I think this is one of my favorite books now. I loved Alosa so much and I wish this was going to be a whole series instead of just a duology! I want MORE! 😩
What did you think about this book? Don't you love pirates? Alosa is definitely my new favorite book character ever! 😂 Are you excited about Daughter of the Siren Queen too? I CAN'T WAIT!
And don't forget to enter my giveaway for a $25 gift card to Erin Condren, and used copies of The Percy Jackson series and The first three books of The Heroes of Olympus!
Plus, The first four books of the I Am Number Four Series and The Legacies: The Lost Files! I am extending the giveaway to February 19, so you still have time! 😊
That's all for now! I'll see you on Tuesday!
Follow
All credit goes to the authors of the images.
<a href="http://www.freepik.com/free-vector/soft-background-with-a-cute-blue-watercolor-stain_1064674.htm">Designed by Freepik</a>
Title Header:
<a href="http://www.freepik.com/free-vector/independence-day-banners-with-watercolor-shapes_1121363.htm">Designed by Freepik</a>
Book Covers:
https://www.goodreads.com/