Hey Book Bloggians! 😄
Today I am linking up with Top Ten Tuesday to bring you some of my favorite childhood books that I would want to share with my future kids someday, so let's get into it! 😊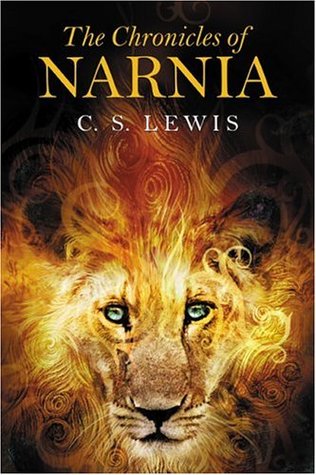 The first books series I would definitely have my future kids read is The Chronicles of Narnia by C. S. Lewis. Me and everyone I knew grew up reading this series and I feel like I would be a failure as a Mom if I didn't make them read this series cuz it is amazing. 😊
I haven't even finished reading this series yet, but it is SO GOOD. If I had a daughter one day, I would totally make her read this series with me to foster a love of reading. And the characters and their moms are just so great and relateable and this series is just so fun and ugh I just love it I want my future daughter to love it too. 😍
I listened to the audiobook of the second book of this series which I almost never do, but it was really good! It had background music, a whole cast of different readers to do the different characters, and it works so well with the way the book is written and it would be so fun for kids. I found myself wishing that I listened to this series when I was younger so I could appreciate it more, but if I have my own kids someday, I am totally making them listen to this series on audiobook. It would be great for a road trip or something. 😉
My grandma sent me these books when I was in elementary school and I loved them. I've read every single one. I would definitely introduce these to my future kids someday. They are so cute and fun to read.
I think this was probably this first series that really got me to love reading. They are such great kids books and I would always check them out at the school library every time I went. They are so fun and action packed and I remember always wanting to know what happened next.
I first discovered this amazing series in fourth grade when my teacher read this first book to us in class. They are so suspenseful and I loved them! It would be amazing to share them with my own kids someday.
This is a historical fiction series that I got for Christmas from my uncle when I was eight. At first I wasn't interested in them so I waited until I was a little older to read them, but once I started them I loved them.
This is another series that one of my teachers read to my class, but I can't remember which teacher it was. 😂 I grew up on these books, and I also really loved watching the TV show.
This book is the first in the Missing Series, a series about time travel by Margaret Peterson Haddix, and I read it when I was in sixth grade because it was on the Battle of the Books list (a competitive book club type thing that my school district had) and I LOVED it! I finally finished the last book in the series recently and I would totally let my kids read this, it is one of my favorites. It could also be a really good way to get them interested in history. (I like to think of this series as kind of like a little more grown up Magic Tree House.😉)
Okay, pretty much anything I have read by Ridley Pearson is amazing! ESPECIALLY this series. (And the Kingdom Keepers, which I am reading now and I also really love) This series is a Peter Pan retelling and I LOVE it! I think as I've mentioned before, I grew up loving Peter Pan, and I am so making my future kids read this! 😂
What are some books that you would make your future kids read? Can you believe Thanksgiving is next Thursday already? Time is flying by so fast!
Follow
All credit goes to the authors of the images.
<a href="http://www.freepik.com/free-vector/winter-background-design_994864.htm">Designed by Freepik</a>
<a href="http://www.freepik.com/free-vector/soft-background-with-a-cute-blue-watercolor-stain_1064674.htm">Designed by Freepik</a>
<a href="http://www.freepik.com/free-vector/independence-day-banners-with-watercolor-shapes_1121363.htm">Designed by Freepik</a>
http://www.brokeandbookish.com/p/top-ten-tuesday-other-features.html
https://www.goodreads.com/