Hey Book Bloggians! 😄
So last Halloween when I was at school I bonded with my friend Grace over this little show on Netflix called Stranger Things...you may have heard of it. 😂
Well anyhoo...Sarah Sunbeemz came up with a book tag to go with it on her YouTube channel, and I thought it would be fun to participate here on my little blog in honor of season two coming out at the end of the month! So without further ado, let's get into the questions. 😊
Epic intro: The opening sequence of Stranger Things is amazing and really grabs your attention.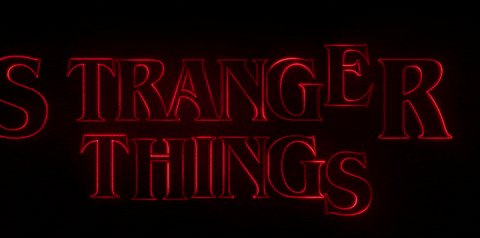 Name a book that grabbed your attention from the first page:
This was really hard to answer because I couldn't remember how any of the books I read recently started. 😂 But I went with Snow Like Ashes by Sarah Raasch because I just remember thinking throughout the whole first chapter: "I think I'm going to love this series." I just really liked the world building and reading about how the magic worked and the governments of the different countries and Meira was just awesomeness and ugh I just loved it. 😜
Dungeons and Dragons: Name a fantasy world you want to experience yourself.
I almost said Snow Like Ashes again, but there is so much war going on there I don't think I would want to get involved in it, so I went with the World of Solace from Mark of the Dragonfly by Jaleigh Johnson. I loved reading about all the steampunk elements and I was intrigued by how the meteor showers work and why objects from our world end up in Solace through them. Plus I would just love to travel on the 401 train with Piper, Anna and Gee it would be so cool. 😄
Squad Goals: When Eleven met Mike, Dustin and Lucas, it was a "mostly" perfect team. Name your favorite bookish group of friends.
For this I had to go with Mark of the Dragonfly again because Anna, Piper and Gee are just so cute 😍 and they're just like a little family 😍 and I want MORE books with them but the other books in the series focus on different characters like whhhyyyyy? 😩😩😩 Give them back to me!
ABC's and Christmas Lights: Joyce Byers goes mad with grief after Will goes missing. Name your favorite mentally unhinged character.
Okay, I don't think I've ever really read a book with an "unhinged" character, but the closest I could think of was Katniss Everdeen from The Hunger Games because she definitely goes a little crazy at the end of Catching Fire.

😳
The Upside Down: Name a book that was the complete opposite of what I expected.
For this I had to put Talon by Julie Kagawa. I was totally expecting it to be an epic fantasy or something like that with a medieval setting, but it was definitely more of a sappy contemporary romance that kinda just happened to have dragons in it. 😞
Mad Scientists: Dr. Brenner likes to get freaky with humanity. Name the freakiest dystopian government you can think of.
Okay I didn't want to be cliche, but I've only read a handful of distopian series, and by far the worst government is definitely Panem in The Hunger Games. I mean, it's pretty hopeless and inescapable. There are just way too many ways you could die. 😱
Demogorgon: Name a scary bookish creature that you would not want to come through your walls.
I don't really read books with scary creatures, or scary books in general, but most of the Fae in The Falconer by Elizabeth May were pretty creepy. They were pretty much the exact reason why I don't normally read books like that, but the only reason I ended up actually really liking it was because of the awesome characters and I liked the Steampunk Victorian Scotland setting. 😄
Cliffhanger Ending: Name a book that had you wanting more.