Today I am doing The Broke and The Bookish's Top Ten Tuesday Prompt: Top Ten Books from X Genre That I've Recently Added to My TBR List.
So basically I can choose whatever genre I want and talk about the books in that genre that I recently have become interested in. I thought this would be a great post to do because I am adding stuff to Goodreads all the time, (seriously, I have a problem, there's now 1,270 books on my to read shelf) 😁 Plus, I have said before that I really want to read more fantasy, so sharing ten of the fantasy books I want to read sounded like a no-brainer.😀
* All credit for the book covers go to Goodreads. Just click on them to see their pages!😊
1.

First up is a series of fairy tale retelling anthologies. (There's three books, but in this case I am counting them as one.)😉
The first one is Five Glass Slippers, retelling the story of Cinderella, the second one is Five Enchanted Roses (Beauty and the Beast) and the third is Five Magic Spindles. (Sleeping Beauty) These books were published by Rooglewood Press as part of their fairy tale retellings writing contests. As I said in my last post, I decided to join this year's contest for a chance to be published in the fourth book, Five Poisoned Apples, a Snow White retelling! I am so excited about this contest, so naturally as soon as I can I want to get my hands on a copy of all of these so I can read the past winning stories so I kinda get an idea of what the judges are looking for. Plus, from the blurbs, all of the stories look so creative and unique! I can't wait to read them!😊


Again, this is a series about fairy tale retellings! The first one, Enchant, retells Beauty and the Beast, the second one, Awaken, is Sleeping Beauty third, Dance, is Cinderella, fourth, Revel, is The Twelve Dancing Princesses, and the fifth, Silence, retells The Little Mermaid. I'm most excited about Dance! The blurb and the cover makes me think it's actually a mash-up of Cinderella and Mulan! How cool is that?!
3.

Daughter of the Siren Queen by Tricia Levenseller.
I haven't even read Daughter of the Pirate King yet, but I'm still already extremely excited!
4.

The Word Changers by Ashley Willis
This is about a girl who literally gets sucked into a book where the characters are rebelling against their plot. She is tasked with finding the lost princess who is one of the main characters and the author of the book to set everything back on track before everything falls apart.
I love the idea of characters knowing they are in a book and not wanting to go along with it! It seems really funny and interesting.😃
5.

The Orphan Queen by Jodi Meadows
This is about a former princess of an overthrown kingdom and other orphaned children of the nobles who became spies and thieves. Did I mention there is also magic and plotting to take back their kingdom? Yes, please!😄
6.

Miss Ellicott's School for the Magically Minded by Sage Blackwood
This looks like a cute middle grade book about a spunky girl who would rather practice magic than have to learn etiquette. Then one day her teacher and all of the other sorceresses in her hometown go missing, and she and her friends have to use their magic to protect their city.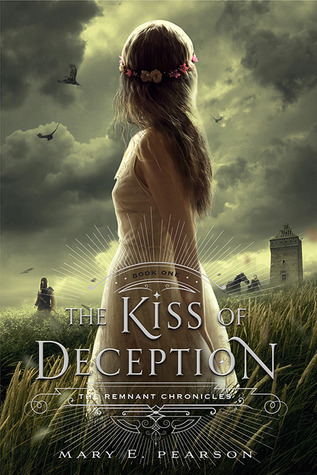 7.

The Kiss of Deception by Mary E. Pearson
This is about a princess who refuses to enter into an arranged marriage and runs away on her wedding day to live as a commoner in a far away village. One day two guys show up, but one is the prince she left at the altar and the other is an assassin sent to kill her.
I kept this off of my TBR for a really long time because I wasn't sure if I would like the romance aspect of it, but I recently decided to add it anyway because the mystery of not knowing which is the assassin and which is the prince seems interesting enough and I have heard that a lot of people like this book, so I figured, why not?
8.

The Magician's Workshop by Christopher Hansen
This one is about a group of islands where everyone who lives on them has the ability to literally bring to life anything in their imagination. Whoever masters this skill is given fame and fortune and is given the title of Magician. The story follows a bunch of kids as they learn to control their powers and strive to become members of the Magician's Workshop.
9.

Eon by Allison Goodman
This is about a girl masquerading as a boy in hopes of becoming a Dragoneye, an apprentice to one of the twelve energy dragons. Girls are forbidden to use Dragon Magic, and if anyone finds out she is a girl, she will be killed. Suddenly she and her allies are in danger as her secret threatens to be exposed, and she has to get ready to fight for her magic and her life.
10. Wicked Like a Wildfire by Lana Popović
This is about twin sisters who all the women in their family have the magical ability to manipulate beauty. There mother warns them not to tell anyone about their abilities, and one day when she is attacked, they discover the truth about their secluded life their mother built for them, and a curse that haunts their family.
I just love the idea of magical twins!
Well that's it for my Top Ten Tuesday Post!
What books have you added to your TBR lately? Have any recommendations?♡
Freepik: All credit goes to the authors of the images.
what do you think?
<a href="http://www.freepik.com/free-vector/winter-background-design_994864.htm">Designed by Freepik</a>
title header:
<a href="http://www.freepik.com/free-photo/blue-background-watercolors-christmas_970786.htm">Designed by Freepik</a>
links:
<a href="http://www.freepik.com/free-vector/soft-background-with-a-cute-blue-watercolor-stain_1064674.htm">Designed by Freepik</a>
Top Ten Tuesday:
http://www.brokeandbookish.com/